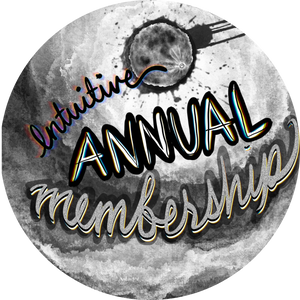 AstroArtistry | dianna fontes artist
MEMBERSHIPS | intuitive annual astrology readings package
Regular price
$1,258.20
$0.00
Unit price
per
Twelve Sessions Per Year...
This is a wonderful option if you REALLY want to commit to using Astrology to guide you. It's a big responsibility to connect to your self using your Natal Chart. Having this on the calendar and committing to do the WeRK will bring you a level of self discovery that's likely unmatched by any other tool.  

We can go really deep into your chart by meeting monthly. 

There is also one BONUS session, the INTAKE Session, where we will meet to discuss your goals and to cover the basics of the process. This occurs before your first session is booked and lasts for about 60-90 minutes. 
This Membership Includes: 
One /1/ 60-minute INTAKE Session/ Natal Chart Reading (yes, even for Returning Clients).

 This is a planning session for our larger WeRK together

Twelve /12/ 90-minute Intuitive Astrology Readings (one per Sun Season/month) AND each session also includes:

A

 recording of the audio/video

Digital & hard copy of your Astrosketch shipped to you
PURCHASE THIS SESSION & YOU'LL BE DIRECTED TO SCHEDULE YOUR INTAKE APPOINTMENT.

 

You will be booking your initial appointment with this payment AND THEN we will schedule your additional appointments together during your intake session. 
Before you complete this purchase please note: You will be making TWELVE scheduled appointments during our introductory session and rescheduling options will be limited. These commitments are important. Before you book your intake session take a look at your calendar and consider your available dates and times.
There will be NO REFUNDS on Memberships. 

*PAYMENT ARRANGEMENTS: Check out the options from ShopPay at check out. IF you need additional support or payment arrangements, please reach out to learn about my limited payment plans. 
---